CryoIQ® DERM Plus Contact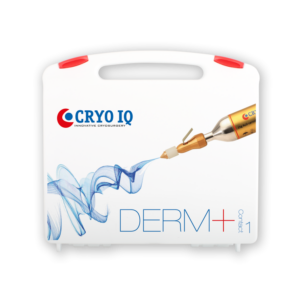 Overview
DERM Plus Contact is our baseline model designed to treat small circular and symmetric skin lesions like lentigo and beauty spots in the face and on the hands. It is suitable in a wide range of medical practices including, general practice, dermatology, pediatrics, podiatry, aesthetics and veterinary.
The device is equipped with a fixed 1, 3 or 5 mm contact tip, ensuring that it can cater to the needs of different types of skin lesions. Below are some of the essential features of the DERM Plus Contact:
Ergonomic design: The device has a simple pencil type-grip that allows for accurate and even distribution of the cooling medium by depressing the metering lever.
Safe handling: DERM Plus Contact uses state-of-the-art cooling technology that eliminates the need to handle potentially dangerous gases and liquids, ensuring safe handling and easy replacement of the gas cartridge when it's empty.
Powerful: The device boasts a freezing temperature of -80 °C/-112 °F, which can penetrate to a depth of 3 mm.
No leakage: The device comes with a built-in non-return valve that prevents gas leakage, providing maximum use of the g
All good things are 3
Contact tips in 1, 3 and 5 mm
DERM Contact is designed for treating skin lesions such as lentigo and beauty spots on the face and body. The device comes in three fixed configurations with contact tips in sizes of 1, 3, and 5 mm, making it suitable for treating lesions of different sizes.
The different contact tip sizes allow for greater precision and flexibility in treating lesions of varying sizes making it the perfect choice in cosmetic dermatology.
Name: DERM Plus Contact
Order number: CIQ-DP-C1/C2/C3
Delivered in: Plastic case
Weight: 91 grams (included 25 gram gas cartridge)
Dimensions: Diameter: 22 mm / Length: 120 mm
Freezing temperature: -89°C / -128°F
Material: Gold plated metal
Patented: Yes
CE marked: According to Medical Device IIA
Warranty: 1 year (2 years, after product registration)
Tutustu tuotteeseen valmistajan verkkosivuilla