TONOVET tonometer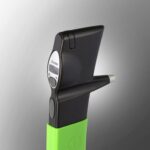 iCare TONOVET is the tool that accurately measures the IOP (intraocular pressure) on animal patients. It is painless and therefore creates no anxiety.
The iCare TONOVET tonometer is intended for use by general veterinary practitioners, veterinary ophthalmologists and other veterinary medical personnel.
The TONOVET is based on a rebound measuring principle, in which a light weight probe is used to make momentary contact with the cornea. The gentle measurement does not need any anesthetic nor does it cause corneal reflex in the majority of animals.
The device is easy to use and requires no calibration.
Technical data
Model name: TV01
Dimensions: 13-32 mm x 45-80 mm x 230 mm
Weight: 155 g (without batteries), 250 g (4 x AA batteries)
Power supply: 4 x AA non-rechargeable batteries
Measurement range: 1 – 99 mmHg
Accuracy: ±2 (5-30 mmHg), 10% (30-80 mmHg)
Display unit: Millimeter mercury (mmHg)
Tutustu tuotteeseen valmistajan verkkosivuilla