Reichert Tono-Pen Vet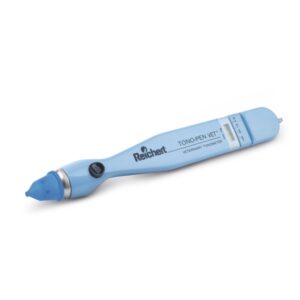 Over the past 20 years, the Tono-Pen Vet has become the veterinary professions gold standard for measuring intraocular pressure. The Tono-Pen has a lightweight and ergonomic design with advanced electronic measurement technology that enables operators to take fast and accurate IOP measurements with minimal training required.
With over 40 breeds of cats and dogs possessing the predisposition to glaucoma, the Reichert Tono-Pen Vet provides simplicity for monitoring this condition.
Sterile Ocu-Film + Tip Covers are used to minimize the risk of cross-contamination between uses.
Features:
Easy to read digital display
Measuring range: 5 – 80 mmHg
Long battery life
Maintenance-free
Dimensions (in cm): L 18.4 x W 2.5 x D 2.2
Lightweight: 64 g