Alexos 3 phacoemulsification system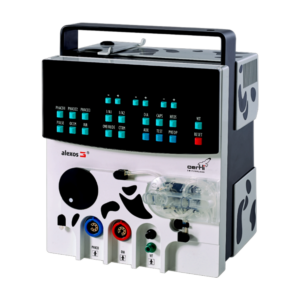 For Small & Large Animals
The Alexos3 makes cataract surgery incredibly fast, safe, calm, and – thanks to its excellent mobility – economical and everywhere accessible.
Small platform, great performance
The Alexos3 is a thoroughly compact and portable surgical platform for cataract and glaucoma surgery. The impressively small housing contains all of the Alexos3's innovative power. The supremely precise flow control, the powerful performance and the high user-friendliness make the Alexos3 the perfect device for veterinary ophthalmic surgery in a variety of conditions.
Fluidics based on physics – perfectly used.
Through the use of fluidics based on physics, the Alexos series reputation as an innovative leader in veterinary ophthalmic surgery is reconfirmed by the Alexos3. The fluidics concept makes consistent use of the laws of physics. Thanks to the perfect flow control of the peristaltic principle, the Alexos3 unfolds unimaginable precision and power in phacoemulsification by means of easyPhaco, in I / A and in anterior vitrectomy. The flow can be controlled in steps of 0.1 ml.
SPEEP – Speed and Precision
The unique pump innovation is at your disposal now! The SPEEP pump offers you more efficiency and precision in your cataract surgery through its precise control of flow and vacuum. With the SPEEP pump, you are given a highly effective tool for even easier, safer and more efficient work in your daily surgical routine.
Tutustu tuotteeseen valmistajan verkkosivuilla